Bill Goldsworthy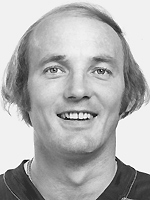 Met Center fans never got tired of watching this guy's post goal celebration, known to himself and fans as the "Goldy shuffle". Bill Goldsworthy was unquestionably the first big North Star talent as well as one of the league's emerging stars of the expansion era. In his first season with Minnesota he led all NHL scorers in points in the 1967 playoffs. He later became the first player to record 200 goals with a post '67 team.
He scored a club record of 48 goals in 1973-74 season that stood for eight years before Dino Ciccerilli broke the mark. He was elected to play in five All-Star games. He captained the Stars from 1974 to 1976. He could play at both ends of the ice and unlike some stars of his day, Bill was known as a solid team player. It was this very quality that helped him to be selected on Team Canada's Summit Series team that defeated the Russians in 1972.
As much ability as Bill possessed some say that he could of been even better. Most of his best years were spent on talent depleted squads with little or no depth. His off ice struggle with alcoholism was a suspect contributor as well.
On February 15th, 1992 Bill's number eight was retired in a memorable ceremony in front of a sell out crowd at Met Center. Two years later he was diagnosed with Aids. On May 29th, 1996, at the age of 51, Bill passed away. He died only a few miles from the grounds where he entertained hockey audiences so well.
Career Statistics
Season Team Lge GP G A Pts PIM
------------------------------------------------------------------
1964-65 Boston Bruins NHL 2 0 0 0 0
1965-66 Oklahoma-City Blazers CPHL 22 2 5 7 65
1965-66 Boston Bruins NHL 13 3 1 4 6
1966-67 Oklahoma-City Blazers CPHL 11 4 1 5 14
1966-67 Buffalo Bison AHL 22 9 11 20 42
1966-67 Boston Bruins NHL 18 3 5 8 21
1967-68 Minnesota North Stars NHL 68 14 19 33 68
1968-69 Memphis South Stars CHL 6 4 0 4 6
1968-69 Minnesota North Stars NHL 68 14 10 24 110
1969-70 Minnesota North Stars NHL 75 36 29 65 89
1970-71 Minnesota North Stars NHL 77 34 31 65 85
1971-72 Minnesota North Stars NHL 78 31 31 62 59
1972-73 Minnesota North Stars NHL 75 27 33 60 97
1973-74 Minnesota North Stars NHL 74 48 26 74 73
1974-75 Minnesota North Stars NHL 71 37 35 72 77
1975-76 Minnesota North Stars NHL 68 24 22 46 47
1976-77 Minnesota North Stars NHL 16 2 3 5 6
1976-77 New-York Rangers NHL 61 10 12 22 43
1977-78 New-Haven Nighthawks AHL 4 1 2 3 4
1977-78 Indianapolis Racers WHA 32 8 10 18 10
1977-78 New-York Rangers NHL 7 0 1 1 12
1978-79 Edmonton Oilers WHA 17 4 2 6 14
------------------------------------------------------------------
WHA Totals 49 12 12 24 24
NHL Totals 771 283 258 541 793


Data Courtesy of the Internet Hockey Database