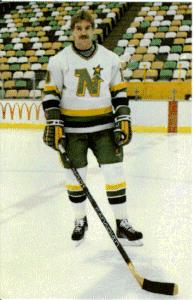 Gordie Roberts
Gordie Roberts never seemed to lack two things: Experience and cool nerves. He played like he always wanted the puck. Just as it seemed like he was holding on to it too long in the face of on-coming forecheking, the vetern would somehow make a great pass or find some open ice.
In 21 professional seasons, Gordie Roberts suited up for over 1,500 games. His best year came in 1983-84 when he recorded 53 points. His NHL travels brought him to Hartford, Minnesota, Philadelphia, St. Louis, Pittsburgh and Boston.
Before joining the NHL, Roberts was signed at 18 by the New England Whalers of the World Hockey Association. In back to back seasons, 1977-78 and 1978-79, he led all WHA defensemen in scoring. The Detroit born native represented is country twice in the Canada Cup (1976, 1981). After four seasons in the WHA, he broke into the NHL as a result of the WHA-NHL merger. While in New England, Roberts earned the distiction of assisting on Gordie Howe's final NHL goal.
In 1981, the Minnesota North Stars aquired his services in exchange for Mike Fidler. His impact on the club was immediate. Roberts was a key peformer in helping them reach the 1981 Stanley Cup Finals.
Roberts played in 153 NHL playoff games. He won two Stanley Cups ('90-91 & '91-92) with the Pittsburgh Penguins. In 1994, Roberts left the NHL and joined the IHL. Minnesota fans may remember that he finished his playing career back in Minnesota with the Moose.
In 1997, Gordie was hired on the Phoenix Coyotes coaching staff and served in that capacity until recently when he named Director of Player Development. Working along side of another North Star legend, Bobby Smith, Roberts is now responsible for evaluating the progress of the organizations's young prospects. Gordie, wife Marlo and two children currently reside in Minneapolis.
Related
Career Statistics

Drafted: #54 overall by Montreal, 1977

Season   Team                            Lge    GP    G    A  Pts  PIM
----------------------------------------------------------------------
1973-74  Detroit Junior Red Wings        SOJHL   0    0    0    0    0
1974-75  Victoria Cougars                WCHL   53   19   45   64  145
1975-76  New-England Whalers             WHA    77    3   19   22  102
1976-77  New-England Whalers             WHA    77   13   33   46  169
1977-78  New-England Whalers             WHA    78   15   46   61  118
1978-79  New-England Whalers             WHA    79   11   46   57  113
1979-80  Hartford Whalers                NHL    80    8   28   36   89
1980-81  Hartford Whalers                NHL    27    2   11   13   81
1980-81  Minnesota North Stars           NHL    50    6   31   37   94
1981-82  Minnesota North Stars           NHL    79    4   30   34  119
1982-83  Minnesota North Stars           NHL    80    3   41   44  103
1983-84  Minnesota North Stars           NHL    77    8   45   53  132
1984-85  Minnesota North Stars           NHL    78    6   36   42  112
1985-86  Minnesota North Stars           NHL    76    2   21   23  101
1986-87  Minnesota North Stars           NHL    67    3   10   13   68
1987-88  Minnesota North Stars           NHL    48    1   10   11  103
1987-88  Philadelphia Flyers             NHL    11    1    2    3   15
1987-88  St.-Louis Blues                 NHL    11    1    3    4   25
1988-89  St.-Louis Blues                 NHL    77    2   24   26   90
1989-90  St.-Louis Blues                 NHL    75    3   14   17  140
1990-91  Peoria Rivermen                 IHL     6    0    8    8    4
1990-91  St.-Louis Blues                 NHL     3    0    1    1    8
1990-91  Pittsburgh Penguins             NHL    61    3   12   15   70
1991-92  Pittsburgh Penguins             NHL    73    2   22   24   87
1992-93  Boston Bruins                   NHL    65    5   12   17  105
1993-94  Boston Bruins                   NHL    59    1    6    7   40
1994-95  Chicago Wolves                  IHL    68    6   22   28   80
1995-96  Minnesota Moose                 IHL    37    1   12   13   44
-----------------------------------------------------------------------
         WHA Totals                            311   42  144  186  502
         NHL Totals                           1097   61  359  420 1582


Stats courtesy of HockeyDb.Com



Back