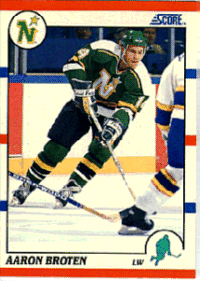 Mystery Player
This card was issued as an error. Can you name the player in the photo who isn't Aaron Broten?
---
NORTH STARS QUIZ


 1. Name the first Coach of the North Stars.

 2. In 1992-1993, how much did the lowest priced ticket cost at
    the Met Center?

 3. Who was the first North Star player to have his number retired?

 4. Which hotel checked in the visiting squad to North Star
    home games?

 5. Which North Star player was the first player in Stanley Cup
    history to score on a penalty shot?

 6. On January 15th, 1979 this North Star scored five goals on
    five shots vs NY Rangers at Madison Square Garden.

 7. In the opening game of the 1981 playoffs the North Stars faced
    off against Bruins at the Boston Garden. What was significant
    about the result of this game?

 8. Who is the only North Stars defenseman to score a hat-trick?

          a) Gary Sargent            b) Larry Murphy
          c) Craig Hartsburg         d) Mark Hardy

 9. Which goaltender has the most career shutouts as a North Star?

    a) Don Beaupre       b) Cesare Maniago      c) Gilles Meloche
    d) Gump Worsley      e) Jon Casey           f) Pete Lopresti

 10. What division(s) has Minnesota been aligned with throughout
     its history?

 11. Who holds the Stars record for most shorthanded goals in a
     in a season?

 12. What's greatest margin of victory ever acheived by a Stars
     team for a single game?

 13. Which North Star team holds the record for most points
     in a season?

     a) 1990-91    b) 1982-83    c) 1980-81     d) 1972-73

 14. Name the two North Star players who helped Team Canada win
     the 1972 Summit Series.

 15. On January 4th, 1976 one of the ugliest incidents occured at
     Met Center when this player viciously butt-ended Henry Boucha
     to the eye and effectively ended Henry's promising career.
     Name this player.

 16. In 1977 the North Stars were the first team in history to
     have four rookies score twenty or more goals. Name them.


BONUS
Who was the only North Star player to play a game that was not called by team announcer, Al Shaver?

Back Home