Streak Busters -1980
---
No other team in the NHL has ever started a season like the Philadelphia Flyers did in 1979. The Flyers had broke the record for the longest undefeated streak at 29 previously held by Montreal. On January 7th, 1980, with their record still entact and the whole sports world following their every move, they came to Bloomington looking for number 36.
They were greeted by a Met Center crowd of 15,962 hoping to see some history. A fact that many people still forget about that night was that the Stars were on a streak of their own. They managed to go 11 games without a loss at home and were one game away from tying a club record.
The Flyers started early in the game on a goal by their top sniper, Bill Barber. But, it would be all Minnesota the rest of the way. Mike Eaves, Greg Smith and Steve Payne scored and the Stars took a two goal lead into the locker room.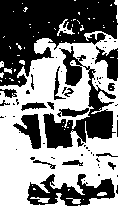 The road weary Flyers tried to get something going early in the second, but got even more frustrated when a apparent Paul Holmgren goal was disallowed after the refreee had observed an extra skater on the ice. Two more North Stars goals followed. The route was on.
By the third period it was evident to everyone that the Flyers were a beaten club. The chant, "We're No. 1, We're No. 1," became louder as the period opened. Ron Zanussi and Bobby Smith each scored to make it 7-1.
The Flyer's turned into the old Broad Street Bullies as things got more than a little chippy. Coach Glen Sonmor had to be restrained after an arguement with referee, Bill Meyers, over the conduct of the Philadelphia squad. Kenny Linesman and John Paddock were reported as the worst contributors as they each tried to instigate fights. The Flyers eventually left the ice with the fans yelling, "Go home Flyers, Go home Flyers."
The 7-1 victory proved that the North Stars belonged in the spotlight too. The Flyers would get their revenge in the playoffs that year, but for one cold Monday night in January the fans of Minnesota could say that they were number one.
Box Score




Philadelphia 1 0 0 - 1

Minnesota -> 3 2 2 - 7



 First Period-1. Philadelphia
 Barber 31 (Busniuk, MacLeish), 3:49
 2. North Stars Eaves 6
 (Sargent, Payne), 13:16,3. North Stars G.Smith 2 14:25, 4.
 Payne 25 (G.Smith, Young) 18:54.

 Penalties- B. Smith Min, 8:36,
 Paddock, Phi, 12:13, Propp, Phil,
 16:10, Hartsburg Min. 16:10



 Second Period-5. North Stars Hartsburg,
 6 (Eaves, MacAdam) 15:33, 6. North
 Stars Polich 8 (Zanussi), 15:54

 Penalties- Propp, Phi, 1:54, Bridgeman
 Phi 4:31 , B.  Smith dbl minor 4:31,
 G.Smith Min 5:41, Holmgren Phi, 9:26,
 Shmyr, Min 9:26, Gothe Phi 12:32, Payne
 Min, 12:32, Phi bench served by
 Vevergaert, 14:36, Polich Min, 16:17
 Linesman, Phi 18:20



 Third Period-7. North Stars Zanussi 6
 (Eaves, G.Smith) 1:54 8. B.Smith
 (Sharpley) 6:29

 Penalties-Bathe Phi 5:06, Holmgren Phi,
 9:51, Paddock Phi 14:34, Hartsburg, Min
 17:06; Daley, Phi 18:51; Linesman, Phi
 gross misconduct 20:00



Shots on goal:

Philadelphia  8-14 -9-31

North Stars  16-10-14-40



Goalies:

Philadelphia - Myre

North Stars -  Meloche



 Attendendance 15,962






Back to Home